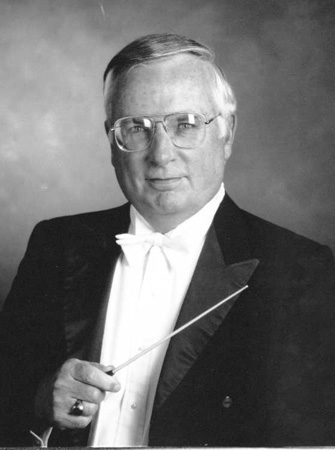 Bingham L. Vick, Jr.,

Professor of Music, Furman University, Greenville, SC
Director, Furman Singers
Artistic Director and Conductor, Greenville Chorale
Founder and Conductor, Chorale Chamber Ensemble

Campus Address
Daniel Music Building, Room 111 Music Department
Furman University
Greenville, SC 29613
Telephone: (864)-294-2161

Home Address
20 Regent Drive
Greenville, SC 29617
Teaching Responsibilities:
Applied Voice (Music 82)
Introduction to Conducting (Music 37)
Advanced Choral Conducting (Music 38)
Survey of Sacred Choral Literature (Music 49)
Vocal - Choral Methods (Music 47)
Native of Charlotte, North Carolina
Myers Park High School, Charlotte, class of 1962
Bachelor of Arts (music major), Stetson University, class of 1966
Master of Music (vocal performance), Northwestern University, class of 1967
Ph.D. in Music History and Literature, Northwestern University, degree awarded in 1976

Conducting studies with Prof. Harold Giffin (Stetson University), William Ballard (Northwestern University), Margaret Hillis (Nortwestern University),
Aspen Summer Institute (1979), Robert Shaw Choral Institute, sabbatical study with Sir David Willcocks (England, 1984)
Furman Singers and Chamber Singers, under the direction of Dr.Vick have been invited to perform for regional and national conventions of the American Choral Directors Association:
1976 - Furman Singers, Southern Division, ACDA, Charlotte, NC
1983 - Furman Singers, National Convention, ACDA, San Antonio, TX
1994 - Chamber Singers Interest Session performance at Southern Division Convention, ACDA, Knoxville, TN
1998 - Furman Singers,Interest Session performance at Southern Division Convention, ACDA, Charleston, SC
1999 - Chamber Singers, Interest Session performance at National Convention, ACDA, Chicago, IL
2002 - Furman Singers concert performance, Southern Division, ACDA, Charlotte, NC
Brief Biographical Sketch
Bingham Vick,Jr., professor of music and director of Furman Singers since 1970, is coordinator of choral ensembles at Furman University. A native of Charlotte, NC, he earned degrees from Stetson University and Northwestern University, where he was a student of Margaret Hillis and assistant conductor of the Chicago Symphony Orchestra Chorus. Vick is artistic director and conductor of the Greenville Chorale (symphonic chorus) and founder and director of the professional choir, the Chorale Chamber Ensemble. He retired in January, 2002, from Westminster Presbyterian Church, where he had served as musical director for twenty-eight years.
At Furman, Professor Vick teaches applied voice, conducting, and choral literature courses. In 1984 he was awarded the Furman Meritorious Teacher of the Year Award for his excellence in teaching. He is a Life Member of the American Choral Directors Association and past president of the thirteen-state Southern Division of ACDA. He is active in the Music Educators National Conference and the International Federation for Choral Music, and has been a long time member of the National Association of Teachers of Singing and the Presbyterian Association of Musicians.
With more than thirty years of conducting experience, Dr.Vick enjoys an outstanding national reputation as a conductor and teacher. Under his direction, the Furman Singers have performed for numerous Southern Division and National Conventions of ACDA. He conducts annual concert tours throughout the east and southeast, and biennial concert tours to Europe (summer of 2004 will be the sixteenth tour abroad). He has conducted all-county choirs, all-state choirs, and choral workshops throughout the southeast. An active tenor soloist, Dr.Vick sang for several years with the Robert Shaw Festival Singers, under the direction of the late Robert Shaw.
In 2000, Dr.Vick was presented South Carolina's highest civilian honor, the Order of the Palmetto, by the governor of South Carolina in recognition of his service and leadership to the state in the arts. In 2004, he was again honored with the Elizabeth O'Neill Verner Governor's Award for his outstanding musical leadership and contributions to the state of South Carolina.
Dr.Vick and his wife Judy live with their miniature schnauzer, Zoie, at home in Greenville. Golf and gardening are his hobbies.
Furman Singers Tour Repertory, 2004-2005
Conducting - What Matters Most (prospectus for conducting textbook by B.Vick)
Choristers Guide to Keeping Conductor in Line
Performance History of Greenville Chorale